A little bit of a background
Although Charlotte is a very popular dessert in France, its origin is… English! We have to go back to the 19th century in England where a cook invented this dessert in the honour of Charlotte, the wife of George III and grand-mother of Queen Victoria. At this time, Charlotte dessert was crafted in a round and rather tall mold, covered with bread and filled with compote.
A few years later, a cook, Antonin Carême, founder of pastry and French haute cuisine, replaced the bread with boudoir biscuits and the compote with Bavarian cream. Charlotte, as we know it now, was born!
Here is my recipe « recette » of « charlotte au chocolat ». This beautiful dessert looks impressive but is not complicated to make.
But before this exquisite recipe, let's learn a little bit of French! You can skip this part if you want

Listen to « les mots du jour », an audio file containing a the name and the ingredients of this recipe in French & download some vocabulary in French!
La Charlotte au chocolat ingrédients (slow version) :
La Charlotte au chocolat ingrédients (normal speed)
Vocabulaire audio and Charlotte chocolat Vocabulaire
La Charlotte au chocolat
Ingredients « ingrédients »
20 sponge fingers « biscuits boudoirs » / 20 biscuits boudoirs
6 eggs  / 6 oeufs
200g baking chocolate / 200g de chocolat à pâtisser
100g caster sugar / 100g de sucre en poudre

Directions « réalisation »
Make a syrup by heating the sugar in 100ml of water. Stir until the sugar disolves and set aside to cool. You can add a teaspoon of rhum if you fancy.

When the syrup is at room temperature, dip bicuits one by one in this syrup. Arrange the biscuits in a ring around the edge of a springform cake tin. Then cover the base of the tin. You may need to break some of the biscuits to make them fit. It is important that you cover the base and do not let many holes.

Then, prepare the chocolate mousse:

Gently melt the chocolate in a bowl set over a pan of simmering water. Stir gently.

Separate the egg yolks and whites. In a large bowl, whisk the egg whites until they hold stiff peaks.

In a large bowl, gently mix the egg yolks with the melted chocolate until you obtain a beautiful and soft chocolate cream.

Then, carefully fold the egg whites until you obtain a beautiful mousse, very light.

Spoon half of this mixture into the cake tin and level.

Soften biscuits boudoirs and make a layer on top of the chocolate mousse, and spoon the remaining mousse. Level.

Chill to set at least 6 hours of overnight.

Once your charlotte is set, carefully unclip your tin and voilà! Your charlotte au chocolat is ready!
Now is time to enjoy this beautiful dessert.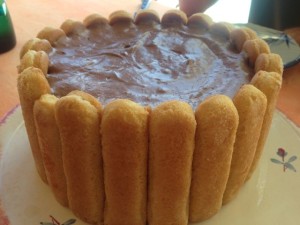 Bonne dégustation!
Do you want to access this recipe in French? Here the French version of the chocolate charlotte recipe. Bon appétit !
Tags: charlotte recipe, chocolate charlotte, French dessert recipe, French vocabulary, Learn French