Today, I am taking you to another region of France. Let's have a virtual visit of one of the most beautiful cathedrals of France : the cathedral of Reims.
La Cathédrale de Reims vue du ciel:
http://www.cathedrale-reims.fr/Explorer/Le-monument-vu-du-ciel
On YouTube, type: "Cathédrale de Reims: l'intérieur en couleur"
The Reims Cathedral is located in the Champagne region (yes, champagne!!). This is a very important place regarding the French History as it is in this cathedral that the kings of France were crowned (and not in Paris). It's an amazingly beautiful monument and it is definitely worth a visit, even if right now it is most probably a virtual visit.
The cathedral de Reims has two towers but no "flèche". Usually, cathedrals have "une flèche". Une flèche is the architectural name of a long and slender spire placed on the church (or cathedral) roof. I could not find (yet) a virtual visit of the "flèche" of a cathedral but I will keep looking because it is worth a visit.
I remember as a kid, we used to visit many cathedrals during our holidays and of course, we would visit the "flèche". It was a "must-see" and no elevator of course!
I remember the beauty of the view as you walk the stairs in the "flèche" and at the same time, you can enjoy the view because "flèches" are carved… so it's like walking to the sky. It's an amazing feeling.
But, the truth is, so many tourists got stuck inside the "flèches" of the French cathedrals because they were scared of heights AND so many rescue teams were fed up with this kind of intervention that nowadays, most of the "flèches" are closed to the public… It's a shame but I understand why it happened.
Anyway, enjoy this virtual visit to one of the most famous French cathedral.
I'll be back very soon with new virtual visits to France.
Have a beautiful day,
Just for « le plaisir des yeux », here is another beautiful church. Not so famous but look at the scenery surrounding it. Amazing isn't it?!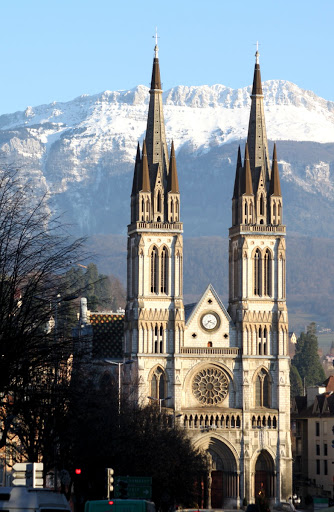 Even in a medium size city, you'll find architectural wonders, you do not need to go where everybody does… Enjoy the privilege of a relaxing visit!
Vocabulary / vocabulaire
Vocabulaire BlogPost visite virtuelle cathédrales
French History : l'histoire française
the king : le roi
Crowned : couronné
A crown : une couronne
Holiday : vacances
Be scared of heights : avoir le vertige