I told you! I love France, teaching French, sharing my love of French and I LOVE food. So, here we are. What do we eat in Normandy?
Well, excellent food.
Do you know camembert?
As you know, France is a huge country for cheese. French people cannot live without cheese. We eat cheese everyday. Cheese, bread and wine. What Else do you need to be happy?
And one of the most famous French cheeses is "le camembert". It is not strong (unless you forget it at the bottom of your fridge for a few weeks), and it does not smell so strong. When you visit France, you must try "un camembert". This cheese is so famous in France that you will find it everywhere, in any region, in any supermarket or food shop. It's a "must-taste", really.
Do you know that this cheese is also excellent melted on boiled potatoes. It's gorgeous, gorgeous. And do you know that Camembert is also the name of a village in Normandy?
Yes!
Camembert, check this link to learn more about this lovely village. And while you are at Camembert, you should pay a visit to la fromagerie Durand, the last camembert cheese maker in the city of Camembert. You cannot miss this one!!
But the Normandy region is not only famous for its camembert cheese, it is also famous for many dairy products like cream and butter. And these ingredients are widely used in the traditional cuisine of this region.
Another thing you will find everywhere in Normandy: apples. Orchards of apple trees, everywhere and cows! With all these apples,people make calvados a very strong alcohol and cider  (in the Bretagne region too).
So, as soon as you can come and visit France, you have to visit Normandy (and many other regions too…!), try a camembert and drink some cider.
Have a beautiful day, talk to you soon,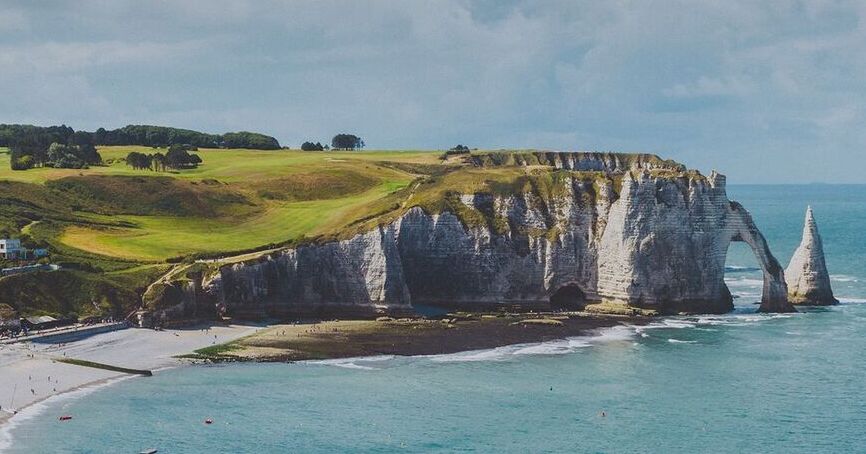 Vocabulary : vocabulaire
Voc BlogPost spécialités culinaires normandie
Cheese : du fromage
Food : la nourriture
A speciality : une spécialité
Potatoes : des pommes de terre / des patates
Famous : célèbre
An apple : une pomme